Appreciate the gentle sounds of nature and unforgettable views at Camyr Allyn, easing you into a beautiful and relaxing day. Enjoy the luxury of King or Twin bedrooms each featuring quality linens, often made with homemade quilts, with ensuites and all Lagoon Wing Rooms have a view across the Allyn River Valley.
Our offering is exclusive. Whether you are a party of 2 or 12, the Homestead and facilities are exclusively yours for your stay, with our onsite manager living in the Cottage next door. This allows for the perfect combination of privacy and convenience for our guests. Our nightly per person tariff includes a delicious self-service breakfast basket which includes cereal, fresh fruit, yogurt, eggs, bacon or sausages, a bread basket, tea and coffee which you can enjoy at your leisure and in your own time. We have a Nespresso machine available if you wish to bring more of your favourite coffee pods. 
Outside poolside, relax in the spa or swim laps in the pool, or prepare meals on the fully equipped BBQ and Pizza Oven.  It is the perfect area for a sunset drink.  Inside, our family room is equipped with fireplace and Samsung TV, enjoy a fireside cheese platter and company or sit back and log into your favourite shows or music.  There is also a billiard table, assorted board games, and a well stocked library.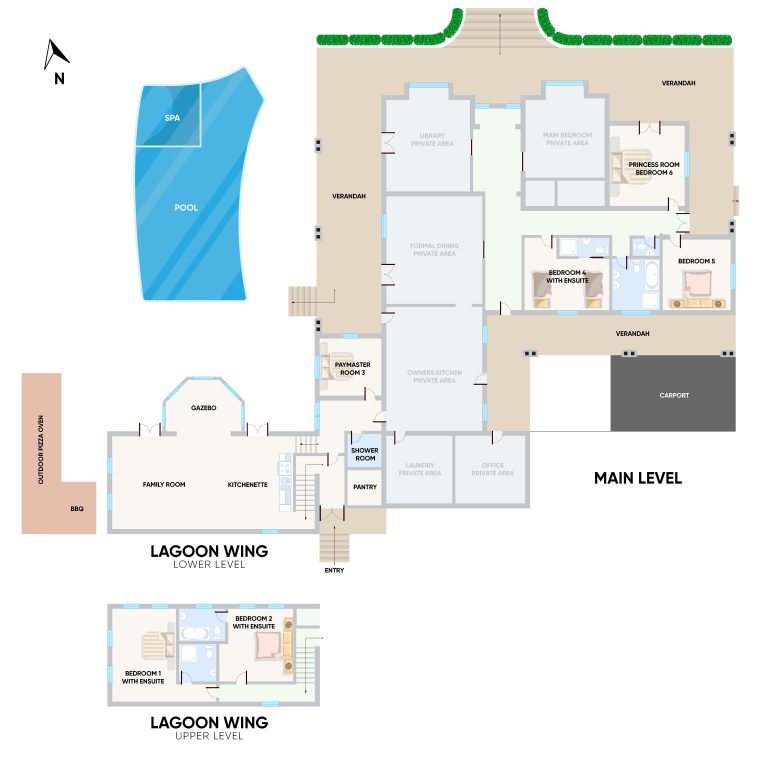 Solar heated Swimming Pool and Gas Heated Spa by arrangement

Indoor Kitchen, and Outdoor BBQ Area with Pizza Oven
Lounge Area with Fireplace and Smart TV/DVD/CD and table for 6
Traditional Australian Veranda with tables and seating for 20
Billiard Table or by arrangement dining table for 16 persons
Reverse Cycle Air Conditioning 
Traditional Australian Veranda with tables and seating for 20, and a hammock!
      There are 6 bedrooms available in total, 4 of which can be configured as kings or twins, the fifth a twin, and the sixth a unique sized bed approximately a cosy double with the possibility of an additional bed to become a twin.
The Lagoon Wing bedrooms include 3 king/twin Rooms, two with ensuites, and the third king/twin with a dedicated nearby bathroom. 
The Main Homestead bedrooms include a twin room with ensuite, a king/twin room, and the unique double princess bed, these last two rooms share a large bathroom and an additional toilet.
Reverse Cycle Air Conditioning
Please note that currently the three Lagoon Wing bedrooms and 3 Main Homestead bedrooms are only connected by the external veranda and garden and not through the Main Homestead. The Main Homestead kitchen, dining room, library, laundry, and study are not generally available. The main kitchen and dining room may be used for meals provided by our onsite manager as are our laundry facilities.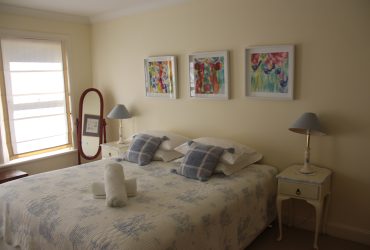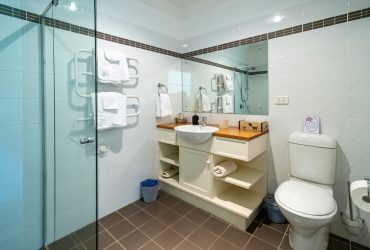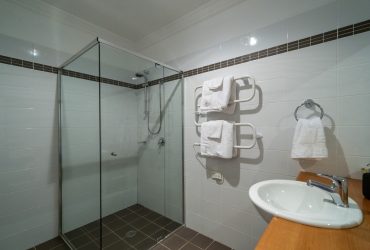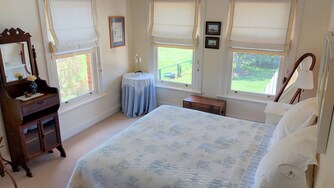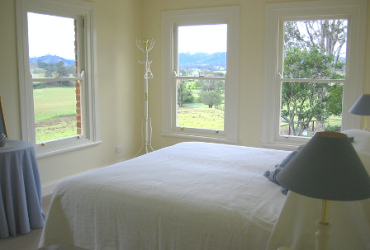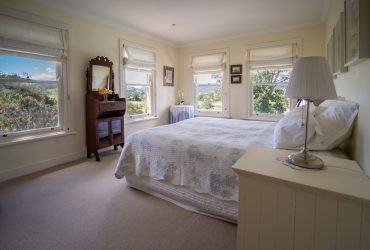 Our Honeymoon Suite, my favourite room. Enjoy the comfort of a modern country-styled room with spacious ensuite with shower. This room with all the views can be made up as a King or Twin Share, on request, so you can lie in comfort and enjoy the views of the Allyn River valley and Camyr Allyn Lagoon.
Enjoy the fabulous Amanda Brooks art to complete the Australian setting. 
If you wake early enough, you can watch the kangaroos morning rituals through the bedroom window as they come up to the fence to graze.
Lagoon Wing Room 2 is just as fabulous and spacious as Room 1, with half the view. In compensation, request this room if you would like to enjoy a private bath to complete your stay. 
Room 2 can be made up as a King or Twin share, on request and there is still ample room for a travel cot, if required.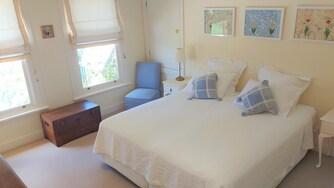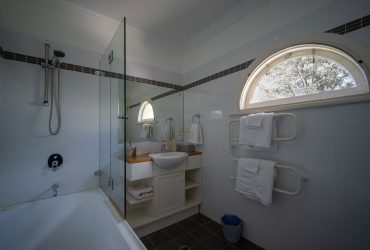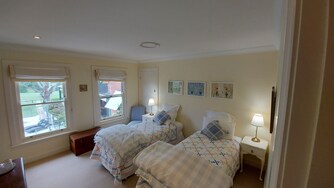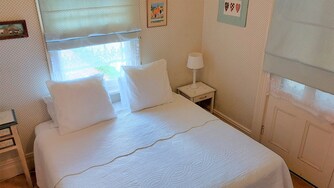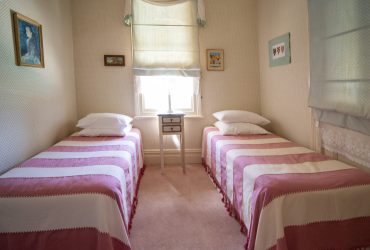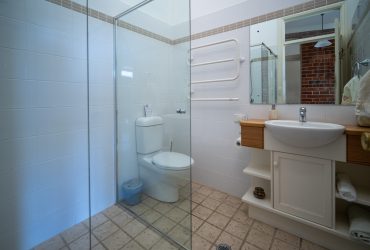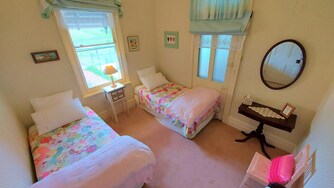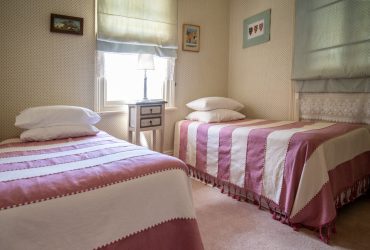 The Paymasters Room completes our Lagoon Wing offering. This bedroom has a window with a view and can also be made up as a King or Twin on request. This room is at entry level for anyone wishing to minimise stairs. 
Please note that the bathroom for the Paymaster's Room is across a hall and is the bathroom that may be shared with guests using the family room and general facilities.
The largest of our bedroom offerings, this bedroom can only currently be configured as a twin share. However, there is comfortably room for an air mattress or travel cot. This room has it's own ensuite, and is next door to the large shared bathroom with bathtub.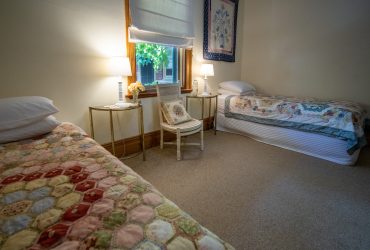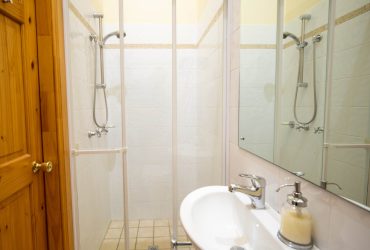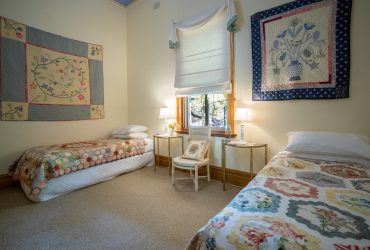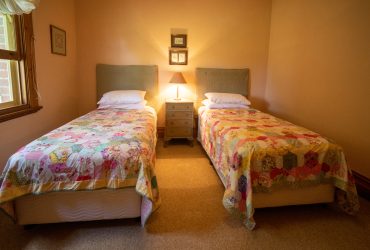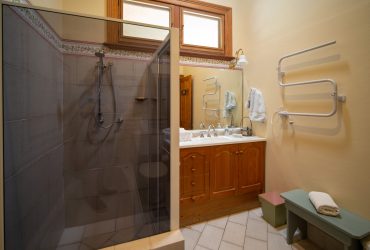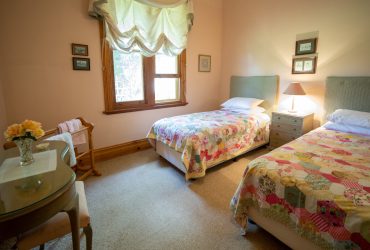 Otherwise known as the Quiet Room, this is where I put those friends that need an early night or a sleep in! This bedroom is far away from the family room, pool and general festivities and veranda.
The bedroom can be made up as a King or Twin share and it shares the large bathroom with bath and toilet and additional separate toilet with the Princess Room.
Ahh, the memories. This was the writer's bedroom growing up…the Princess Room. It is still my favourite room in the house when I am on my own, but the bed is a touch small for a large couple to share as it is 3/4 bed or small double.
This room has its own veranda exit with the shared hammock outside…perfect to sneak into for a read, meditate or sleep.
The Princess Room shares the large bathroom with bath and toilet and separate toilet with the "Quiet Room".